.
CCF CETA Artists Project • New York City 1978-80
In New York, our experience with the CETA Artists Project has drammatically shown us in real, concrete terms how steady employment
benefits both the artist and the public. -- Rochelle Slovin, Director CCF CETA Artists Project (Testimony to Congress, 1980)
---
More than 600 artists - visual, literary and performing - were employed in New York City through the Comprehensive
Employment and Training Act (CETA). The Cultural Council Foundation (CCF) oversaw the largest project,
with 300 artists and another 200 artists were employed in four concurrent projects administered by
Hospital Audiences, La Mama ETC, American Jewish Congress and Theater for the Forgotten.
Additional individual CETA positions were distributed around the boroughs by the Borough President offices.
The majority of artists in New York's CCF project reported directly to CCF but others reported to one of seven
subcontractors: The Association of American Dance Companies coordinated dancers; Jazzmobile and the
Brooklyn Philharmonia coordinated musicians; the Association of Hispanic Arts coordinated a multi-disciplinary
group of Hispanic artists; the Black Theater Alliance created a dedicated theatrical company; the Foundation for
Independent Video and Film coordinated film makers/video artists, and the Foundation for the Community of
Artists (publishers of the Artworkers News) oversaw a seven-member documentation team made up of
photographers, writers and an archivist.

Special Event: Art/Work - an exhibition
on the history of the NYC CETA artist projects
at City Lore and Cuchifritos galleries
December 2021 - March 2022
---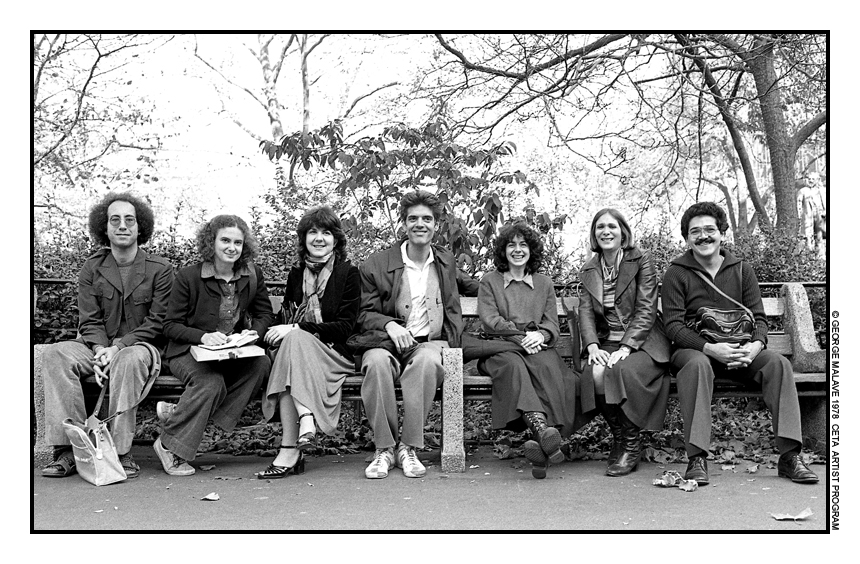 CETA CCF Documentation Unit (photo: George Malave)
---
Most CCF artists were assigned directly to a community organization. Others worked in project teams (such as
FIVF's video crews) or performing companies (such as the Jazzmobile CETA Big Band). Some were commissioned
to do murals and other public works. A group of writers and poets was assembled into the "Words to Go" troupe.
---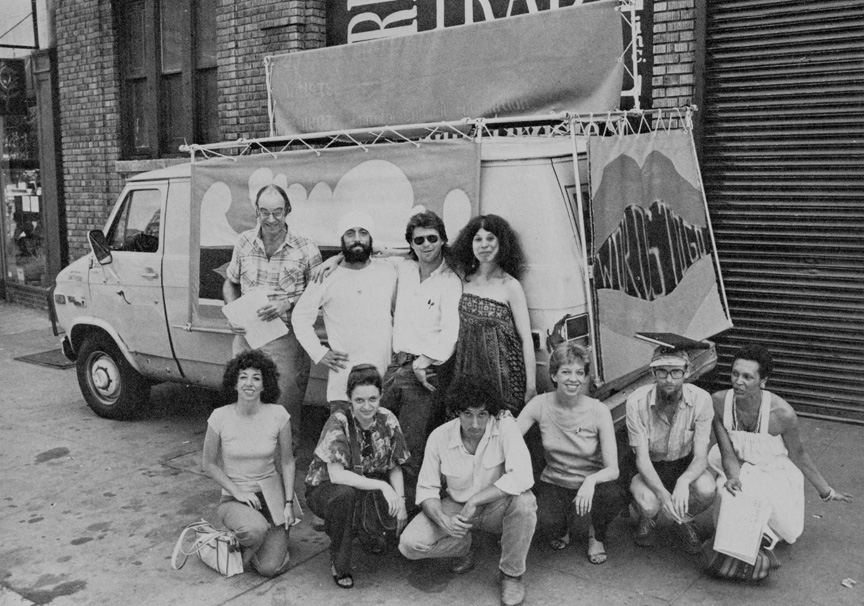 "Words to Go" mobile troupe of poets and authors (photo: Marbeth)
---
When the CCF project entered into its hiring srtage in late 1977, over 4000 artists applied for its 300 positions, all of them
meeting stringent requirements for both professional achievement and continued unemployment. Those who were hired would be
given a salary of $10,000 per year, with benefits (far more than could be earned in the typical day job at that time). It was expected that
they would work in community and project assignments four days per week and on their own self-initiated projects one day per week.
Two of the artists hired, Joseph Delaney and Herman Cherry, had worked in the WPA arts projects in the 1930s.
The contract given to CCF by the City of New York required that its artists would engage in classes, workshops
and master classes, lectures and demonstrations, consultancies, design services, literary services, theater services,
performances, creation of new works (such as murals, dances, plays), residencies and exhibitions. The number of
each was exactly specified. The community organizations who requested one or more CETA artists included schools,
cultural centers and museums, community centers, senior centers, civic and historical associations, city and borough
agencies, the Metropolitan Transportation Authority and PATH. After its first year, the CCF project had accomplished
more than double its contracted expectations. When it was reauthorized for a second year, the number of
artist lines in the project was raised from 300 to 325.
Forty years later, few CCF CETA public art projects remain visible. Among these are two ceramic murals in the Clark
Street subway station in Brooklyn (designed by Johan Sellenraad and Alan Samalin and realized in ceramic by
Joe Stallone). Four successful and popular murals installed in the World Trade Center were
lost in the two attacks on the WTC (1993 and 2001). Historical materials from and about the project are housed
at the New York City Municipal Archives.
---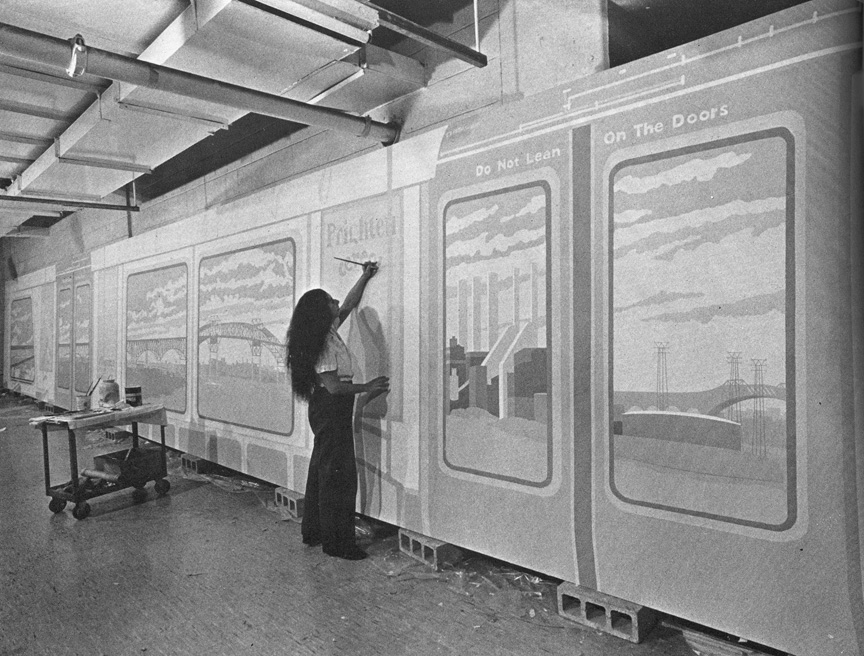 Cynthia Mailman painting a mural for installation at the PATH
station of the World Trade Center. (photo: Stanford Golub)
---
Among those employed in the 1978-80 CCF project, many went on to very successful artistic careers, including
sculptors Ursula Von Rydingsvaard, James Biederman and Christy Rupp; painters Willie Birch and Hunt Slonem;
photographer Dawoud Bey; videographer Marc Levin; poets Charles Bernstein, Bob Holman and Pedro Pietri;
dancers Vic Stornant and Martha Bowers. Some of the project staff also went on to successful careers including
project director Rochelle Slovin, who became the founding director of the Astoria-based Museum of the Moving Image;
projects coordinator Liz Thompson who went on to direct the Jacob's Pillow Dance Festival and then the Lower Manhattan
Cultural Center. Theater artist coordinator Blondell Cummings achieved considerable fame as a dancer/choreographer,
and visual artist coordinator Suzanne Randolph became a well recognized gallerist and arts consultant.
Because both CETA funding at the federal level and continuation at the city level were political issues,
CETA artists found it necessary to publicly demonstrate in defense of the project. Nonetheless, by the
beginning of 1980, CETA funding was disappearing and the CCF Artists Project was forced to close.
As one of its last acts, it produced a book presenting the history and accomplishments of the project,
Artists Project: on the documentation and utilization of largely untapped resources.
During the term of the project CCF produced a monthly Journal documenting the project.
Photos from the CCF book and scans of twenty Journal volumes can be accessed from links below.
---
Photographs from the CCF CETA Artists Project book
part 1 • part 2
Scanned copies of the CCF CETA Journal (March 1978 - August 1980)
CCF CETA Documentation Unit additional photographs • articles
There were many other photographers among the CCF artists. Examples of their work are at this link:
CETA Artist-Photographers
Full List of CCF CETA Artists & Administrators
---
---
• Homepage • Legacy Project • National View • Legacy Project Accomplishments • Resources for Recovery •